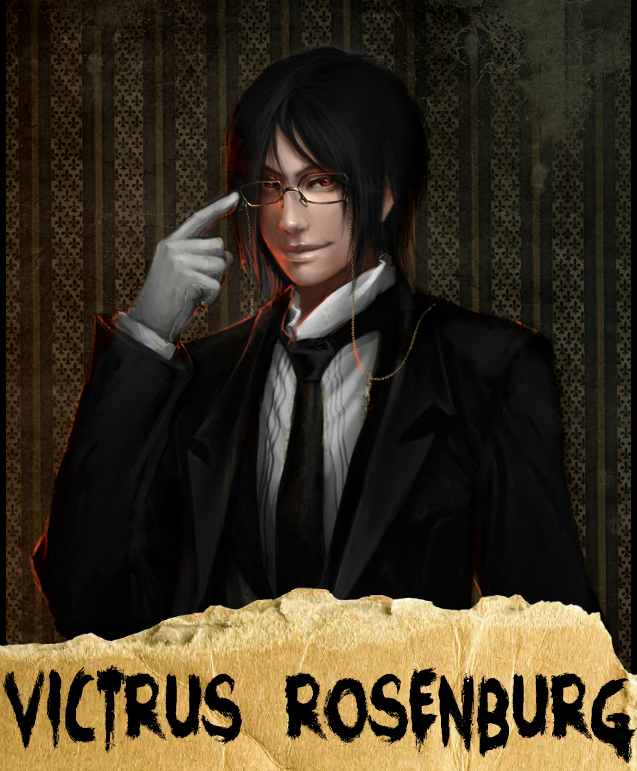 Victrus Rosenburg was not accustomed to sleeping on floors. He couldn't recall a time, in fact, that he'd ever before stooped to such folly as passing out under a lit candle--regardless of ambiance. "This is what comes of believing in nonsense," he muttered, one fist curling inward, the arm stretching overhead. "Ghosts that eat sugar. Honestly." Muscles creaked and wax cracked, and he blinked at the haphazard devastation he'd made of the kitchen.
To say nothing of what he'd tracked all over the house. Cringing, because even he couldn't work two creative notes together in a mess that appalling, he moved to sit up straight and his other hand...crinkled. "Blast." The receipt was hardly good for anything now. Getting to his feet with a groan, he slapped the paper down on the counter. The candles had guttered, and it was getting darker already. So much to do. And anything musical in nature would have to wait.
Vic shrugged out of his now slightly less damp trenchcoat and draped it over the edge of the kitchen sink. A match was lit, and one candle flickered over him as he unbuttoned his cuffs and rolled the pale fabric upward. Firm forearms were revealed, toned not from some adrenaline junkie's need to work out but from hauling instruments, drawing bow upon bow over strings. Scarred as well, amusingly so, from throwing the occasional knife out the window to stick in one neighbor's bizarrely person-shaped ficus...
He hadn't really considered what fun he might have with tormenting neighbors in his new house.
There wasn't much time, after all, given the concern of an unwelcome, instrument-polishing monster within his own walls.
He still hadn't ruled out that this was the result of his new neighbors tormenting HIM.
He scratched at the back of his neck, dark hair shifting over his shoulder. Time to clean up. He might have a person living in his house that his aunt had forgotten about--a boarder with OCD and neatness obsessions--but even Vic didn't have the lack of humanity so deep as to leave it for someone else to even jokingly clean. "Mop?" he wondered aloud. He hadn't considered he might actually have to clean a house of his own. He'd never really stayed in an apartment long enough to need to bother with tidying, and he'd already spent more time here than at work given the draw of thwarting the mysterious person(people?)(ghost(s?)) tip-toeing around his inherited space.
There were still lesson plans to deal with, and music theory to get in order. Necessary, for the spoiled brats whose parents paid to have him dole upon them undeserved praise and plastic monstrosities to celebrate participation instead of allowing his usual biting remarks on their failures. Too bad it wasn't already next week. Thursdays were his most irritating students to teach. Every other Wednesday, however, came among his favorites--if Vic could be said to have "favorites". Those kids knew adversity, what it was to work hard...and it gave their hesitant, quivering notes something their moneyed cohorts lacked: passion.
His fingers twitched, eager to hold an instrument in his hands and let some of that passion bleed into the darkening afternoon, but it wouldn't be right without his mind fully engaged--the notes would sour. So he continued his search for implements of floor-cleaning.
They must exist.
The ghost had done it somehow.
Vic sighed and grabbed the roll off the counter. It would have to do. He made his way through the living room, around to the window, leaving a trail of connected pieces of quilted bazillion-ply paper to soak up muddied water in his wake.
And then he reached the dining room. His instrument room. His spotless instrument room, save the rework he'd done to restore his breaks and bows to proper ancient order.
And the one violin in the center.
"No no no! Mangled swag-bellied flax-wenches..." He dropped the remainder of the roll on the floor and muttered Shakespearean curses--real and imagined--under his breath. How would he practice at all this evening? Did his disturbing houseguest hate music so much? "This is the most appalling--I specifically said--"
Was it so hard to not touch his violin?
Vic's fists curled and his jaw clenched so hard and shifted with such agitation that his teeth would probably sharpen akin to a cannibal's incisors. Blast it, he'd even left the note, the one that told the "ghost" he'd gotten ice cream and more butter in the fridge--
--except he hadn't, had he? It'd been in his hand, so tightly gripped as to ball up when he woke. Certainly not somewhere visible. And he hadn't left anything open, which had protected his instruments before! Next time--NO. There wouldn't be a next time, because this game was unacceptable when his instruments were the casualty. Wasn't it?
"If you want ice cream that badly, why don't you just say so?" he finally unclenched his jaw to bellow into the depths of his deceased aunt's house. "And don't give me 'this is my way of saying so,'" Vic's eyes fell on the violin. It was. He knew it now; there wasn't another explanation. A sugar-obsessed, ice cream-aholic spook lived in the damned walls of his house, and if he didn't pay the toll, this would be what he had to look forward to every day. Forever. His mouth clamped shut again before he did something more foolish--like pleading with shadows to preserve his sanity.
It would be another hour before he had the heavily dripping paper towels picked up and several of his carefully packed sugar containers splayed open. Another thirty minutes before the papers from the also-cleaned laundry room spread anew over the piano stand. And ten more until notes as mournful and lonely as a hurricane too far from land to kiss the trees lifted from weathered keys to soak into the wooden bones of the house.
---
Dreams come in a size too big so we can grow into them.
This…
… was…
…
not better
.
Iron, everywhere, still. Puddles! So many puddles! Were there more of them, somehow? How? She'd woken up to noise, yet more of his constant and unending noise, keeping her awake as she endured the way her skin crawled and her bone marrow felt like churning concrete.
His only saving grace was that he'd left sugar out this time. If it hadn't been for that, she'd be setting the house on fire. Absolutely and without question, starting with his bed. She set the sugar aside in a safe place so that she could get to work. The trails of water suggested that he'd gone out in the rain again, something peculiar in the distribution.
Had he just
moved it around
? Instead of cleaning it up? Had he perhaps tried to
sweep
the
puddles
?
This all seemed to confirm her theory that he was a very dim man, doing his best with limited faculties. Maybe she could leave him a note–
No. No notes. She should never have done that because now it seemed like such a tempting solution to so many problems, but no. The last thing she needed was his attention or his scrutiny. She didn't think he was persistent enough to find his way through her glamour, but she wasn't going to risk anything she didn't have to.
Besides. The iron was still here. Notes were obviously ineffective.
It was starting to become routine, tending to the candles and the wax, stacking papers to put them in their proper places, gathering the laundry at arm's-length to keep away the man-smells, scrubbing floors and scrubbing floors and
scrubbing floors
. If it hadn't always been her routine to care for the floors on her hands and knees, even when they'd barely needed it, her entire body would be sore with the effort of so much work. As it was, only her skin suffered the consequences of her abuse, fingertips turning red and raw.
Everything needed more scrubbing, and more polishing. Everything needed to be
cleaner
. She was learning to settle, for now, for an acceptable level of pain. It had always been a matter of acceptable levels of pain, but she had managed that as her due, as background noise. This was so much worse than it had been for years, yet so much better than when she'd woken up.
She could deal with that. For now. Until she found a way to make this place manageable, or gave up and moved on. How manageable could it get when he refused to let her fix the instruments?
In the meantime: sugar. Pure sugar, and plenty of it. She ate it straight, lids going languorous and muscles relaxing more with every spoonful. And, more importantly: the aches and pains all dulled, until nothing hurt and she could finally sleep.
She stumbled silent up the stairs, twirling tipsy through the halls to the sound of nothing.