<img style="avatar" src="http://i48.photobucket.com/albums/f206/Blade_Redwind/Alonimi/43610430-0187-4394-bc75-66e3feb453ea.png" style="max-width:25%;float:left;margin:0 18px;]Space…? Ambrose frowned in thought, blinking once. Ah, but he didn't bother her! Ambrose smiled brightly, happiness blooming within him anew. She wasn't running away as some other people did; he thought this a good sign. She enjoyed his company then, his companionship. It was a good thing. The manor needed to living visitors if he wanted to find the song, to perhaps even ease Alrec's discomfort. Though, the latter he wasn't certain as to how, but he felt it was connected.

He was quickly disquieted when Valeria trailed off, distracted by something; he forgot to reply as a result. He felt it as well, eyes narrowing also as he followed her line of sight for a moment. Swirling eyes of ebony, grey, and alabaster become a mixture of colors—a storm unable to settle. It wasn't until Valeria spoke against that the colors retreated and regrouped to a paler gray once more. They refocused on her and he smiled softly.

His tendrils, which had been paused due to the distraction, moved to caress her once again—skin under clothes; their grasp was gentle. She could escape anytime she wanted. Admittedly, Ambrose did not want to scare her away; however, he was not one to understand space, as she'd so eloquently hinted. So it was entirely possible that he would do that which he did not want to do inadvertently.

Confused again, he squeezed her hand once and looked owlishly curious. "What sort of thing is Valeria used to then? should This Ambrose do those things? Would it make Valeria happy?"

It was as he finished his sentence that he felt another. He felt the woman before the door pounded next to them. Without a word, Ambrose detangled himself from Valeria—distracted by the noise and someone new. Floating more than stepping, he reached for the doorknob and opened the wooden barrier. Stormy eyes settled on the new arrival and he smiled brightly, opening the door wider.

"This Ambrose welcomes you to Lavenza Manor."

So many new people! He was so excited! He would have to tell Alrec soon!
---
Sometimes I feel like a girl~... sometimes I don't~
<div style="text-align:center;]<img style="" src="http://share-fastly.picmonkey.com/prod/photo_posts/q3V7xXuRmMi_12706289.jpg" style="max-width:100%;]

<div style="text-align:left;]The door swung open and Anna had to take a step back as Ambrose greeted her. The tendrils floating about him on an invisible breeze, she stared for a moment and then laughed," Figures those assholes would send me somewhere haunted." Anna stepped forward. The pleasantry by which she'd been greeted washed through her almost in warm relief, even over what surprise being welcomed by a ghost would do. Almost immediately as she'd stepped over the threshold she was assailed by the presence of many spirits, some strong, some faint. Even some otherworldies, that sort of through her for a loop. Not many locations could hold so many, at least not from what she had already visited. Maybe except Ankylawyn. 

" Maybe you can answer a couple questions," She sighed, glancing behind him at Valeria," Where am I...and is there ice around here. I bumped my head pretty hard." not to mention the small cuts and bruises that were cropping up. She looked up at Ambrose again feeling rather dwarfed.[/align][/align]
When she pulled away from him he growled again, and again the noise began deep in his chest—one rolling sound falling over the other; each one escaped his throat and then his mouth and he snarled. His brow was deepened, eyes alit and aggressive. His whole body was poised and ready to pounce—to rip her from shoulder to leg. But even as he tried again to jerk from her grip he could not.
Swine!
He who had been worshipped as a god in the time of pharaohs and kings, he who had burned entire cities for the mere suggestion of an insult,
he
who had been offered tribute to sate the hunger borne into him! He, the very child of Anubis, one of those who weighed and judged and brought consequences accordingly—he was reduced, in one single blow—to the title of subjucated!
And by a mere slip of a fleshy thing who could even speak properly.
"
Release me
," he snapped-hissed and he lunged towards her, as she briefly pecked him. His teeth clacked together and the wisps of black grew more erratic around him. His tail had slipped out and had been moving with tepid anger. When he spoke it came down, breaking several branches that had piled up and fallen with his arrival.
"
Now
."
---
Sometimes I feel like a girl~... sometimes I don't~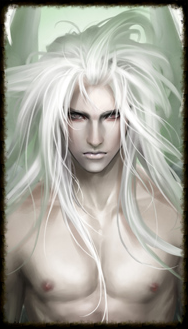 Ambrose blinked as she came forward, making sure to move out of the way so she could come in. When she entered fully he shut the door behind her. And all at once, they were standing with Valeria again in the main lobby.
Ambrose was not certain at first if she were speaking to him or Valeria, but then she was looking at him for the supposed answers. "This Ambrose can answer them," he told her, his voice a mixture of soft tones that echoed—that ebbed and flowed with his presence. He was all at once a kind of being that was there and yet not. "Lavenza Manor in Valsport." And then his brow knit as he considered the ice. Oh no! she was hurt!
"This Ambrose will help!" he told her and then turned, once again distracted by a new mission, a new need from someone else. He float-walked in the direction Alrec had gone, albeit faster than usual. Moments later he was entering the kitchen.
"Alrec," he called, eyes searching for him. "This Ambrose needs ice." His brow knit and he pouted a little, looking sullen. "Someone is hurt."
---
Sometimes I feel like a girl~... sometimes I don't~
<img style="max-width:55%;float:center;margin:0 8px;" style="avatar" src="http://img.photobucket.com/albums/v436/bob2/male/Eimran_Nenoth.jpg_zpsizopx97m.png]
<font size="2]
Quin followed the professors finger and nodded at his question while he read the handling booklet,
"Aye, she stood last I remember..."
It had not been quite a centuries, not really. A few, yes definitely. Not just one.

His hand rose to his face and rubbed at his eyes, as if it hurt them to stare at the year marked on the pamphlet. How long has it been since he had eaten? He felt as if only a few days had passed, and yet it was obvious much more than that has. Appliances running on electricity and gas was something he had only ever dreamed of. Wood and coal burning stoves, a well or pump for water were his normal sights in a kitchen. But this. He had to take a moment to gather his thoughts, not really paying attention to the professor and his question or comments about his musty quarters till some time had passed.
"Ahh....lost in my thoughts a tad...."
clearing his throat, he nodded and focused on what was said to him
; " I could live in my lab. Give but a soft pillow to rest my head on a desk, and I would be all but satisfied. But, perhaps with things much different when I-....lived, my research will wait another day or two while I live above ground. Is-...my old room will my own, I wonder..."
Quin gazed off to the side, his thoughts his own once more.
Not until the plate of food slid in before him that he was pulled from his thoughts about the events that led him into the box and why he felt he should be missing someone. Perhaps it was the servants that often were about? There didn't seem to be any and since it was such a large mansion, who cared for the old place up till now? Not this professor, surely...
"Ahh....thank you, for this."
Motioning to the food, he took a long breath of its aroma and dug into it with a spoon that was obviously meant to serve food. Tho in Quins hands it seemed small. Perhaps he was just a large man - he was not infact - or maybe his hands were overly large for his body - they were not either. It was how he held the spoon. A fist grasping onto the handle tightly as he shoveled a mouthfull into his gob the second he had finished swallowing. In no time, he would have the plate before him cleaned off. Regardless of how the heat of the hot food scorched his throat and lips, he did not slow down.

Not until he nearly choked on his last bite.
---
ʕノ•ᴥ•ʔノ ︵ ┻━┻
<img style="max-width:55%;float:center;margin:0 8px;" style="avatar" src="http://img.photobucket.com/albums/v436/bob2/female/just%20eyes_zpswgb75qsj.jpg]
<font size="2]
Her demon had tried to pull from her grasp again, and a little tick at this one's brow stared. He was defiant and strong, and yet not enough with the binding over him would he be able to be stronger than her. While she was ready for him. Part of her wanted to bash her head against his to get that red glow out of his eyes. To see him bristle when she turned out his lights. But instead, she wiped the expression of a copied snarl from her face.

Or was it more of a grin?

None the less, she removed the copied expression, she did not understand what it was she did. It was his reaction that made this one do it. And the fact his black wisps were hurting the others around them. Her cousins, one could say.
"No!!"
her voice was deep and sang with the sound of five voices, all familiar to her while she made her grip on his wrists that much more tight. That much more painful while her hands felt like needles against his, piercing him and yet not enough to draw blood. Fully intending to hold him with her own hands and show that he could not throw a tantrum without a consequence.

Like him, her eyes changed. Yet they did not glow. The emerald in her eyes faded to white and the tendrils of her hair rose up behind her, solidifying into what looked like spears. From behind her, they lashed out at his shadowed wisps and pierced them. One by one, somehow turning shadow solid and stabbing them into the ground to hold. Still, she stared at him while he snapped his teeth at her.
"Calm yourself,"
the voices spoke out in her tone and his replicated accent but a variation of singers,
"or you will have your abilities locked till it is decided you need them..."
The warning came from whoever controlled the woman, not from the woman herself.
---
ʕノ•ᴥ•ʔノ ︵ ┻━┻
So Lavenza hadn't been built atop a shambling horde, then. A spot of good news, that.
He cocked his head at the zombie, who'd gone eerily silent once confronted with the calendar. Well, if Alrec had been told he'd pulled a Rip Van Winkle, he supposed he might be struck dumb for a few moments. At the least.
"I'm familiar with the sleeping on one's work," he said. It wasn't like he got much rest elsewise. If he settled in for a good night's sleep in his own bed--any bed, it seemed--the nightmares would come. Others' needs would flood in horribly. If he worked until he dropped, however, he could get lost to oblivion for a few hours. "There's always the danger of drool, though, isn't there?" he joked, though the zombie seemed lost in thought. "I'd hate to wash away days of research in a single ill-gotten nap."
He pointed upward next, and cleared his throat. "There are many and sundry rooms about the Manor. I'm afraid for the moment I've claimed the former Lady's suite, but perhaps your room is still vacant. No promises that it has been untouched, however. Denizens of all shapes and sizes and supernatural persuasions seem to flit about at random within these walls." Today's plethora of unexpected guests were merely...another day.
"Yes, yes, of course. Enjoy!" It was around the time he turned over the food that he realized that Ambrose was calling for ice.
"Heavens." He spun toward the kitchen entry and smiled at the specter who appeared, despite the dread climbing his throat. "What could possibly have happened now?"
Nightmare scenarios and benign ones alike flitted through his brain. Perhaps Ambrose had gotten overly friendly and someone had hurt themselves trying to get away, as Alrec himself had once nearly done. Perhaps someone had gotten their flesh burned off by the wretched gargoyle in the grandfather clock. Perhaps someone had a headache from too much sun. Perhaps someone needed a refreshing edge to their room temperature iced tea and Ambrose was merely playing host. Alrec really hoped it was one of the latter options.
Someone is hurt.
Alrec sighed and grabbed a hand towel. The automatic ice dispenser in the fridge door spit out several cubes into a bag, which he wrapped in the cloth as he crossed the floor toward Ambrose.
When the zombie coughed, he sent a look over his shoulder and blanched as he realized how quickly the food had disappeared. "I guess a few centuries really opens up one's stomach," he said. "You alright there? Little late for me to remind you to chew...I uh...I don't suppose you're still a bit peckish?"
A box of stuffing wasn't exactly the most filling--or appetizing--concoction one could choose, after all.
---
Dreams come in a size too big so we can grow into them.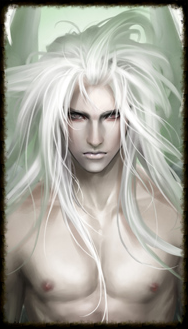 Ambrose was immediately—after his declaration—distracted by the other occupant of the kitchen as Alrec sighed and went about getting ice. There was... his brow knit and his eyes darkened a shade; swirling bits of storm became more black and blue. It would be a scary sight for some, to be sure—seeing tiny specks of starry bits mixing with more darkness than light. The man—the zombie man—was somehow... familiar? His head didn't hurt with it, but he felt a wall of some sort blocking whatever memories there were—if any were to be had at all. It bothered him so badly that he could not recall—and he felt that it was very important—that his tendrils drooped as would a dog's ears.
He didn't even hear Alrec, too focused on watching the other man eat. When Alrec got around to handing him the towel of ice, if he so choose, Ambrose would not lift his hands in reaction.
"This..." he started, thinking again. "...This Ambrose... knows you...?" he asked more than stated. But as soon as Alrec spoke again, to the zombie man, Ambrose' gaze snapped to Alrec's and he blinked several times in confusion. What had he been doing again? His brow knit again and he thought quite hard, biting his lower lip.
"This Ambrose forgets what he was doing, Alrec..." he murmured mournfully.
---
Sometimes I feel like a girl~... sometimes I don't~
The threat
should
have calmed him, made him realize the error of his own doings. But he was all things arrogant when enraged. The spears that pierced his shadow-tendrils did nothing but infuriate him further. "I am not a pet to be trifled with," he growled, voice ebbing in waves of layered sounds that seemed to come from somewhere deep, dark, and hellish. His tendrils pushed against the spears, shadows snapping and trying to break free—some did. His tail too, snapped and broke branches and plants around them, trying to reach for the girl in his lap. Despite the pain, he pushed back, a fire beginning in his belly.
"I am no puppy," he went on. "Even Cerberus trembles in my wake, Guardians." The last he spat as if it were bile on his tongue.
The shadows grew around him, growing larger and burning with something. With a smile that was both sick, twisted, and a little demented, they struck after the woman in his lap—intent on coiling and crushing her like a balloon in a child's unforgiving grip.
"You have been found wanting," he whispered against her mouth. "See you in Hell."
---
Sometimes I feel like a girl~... sometimes I don't~
Alrec held the ice bag outstretched as he spoke, but when the weight wasn't relieved, he glanced at it, surprised. "Ambrose?"
The specter's gaze had focused on the newcomer with more concentration than Alrec had seen him affect before. Quite curious. He glanced between the two inhuman beings and smiled inwardly. The ghost's memory was flighty at best, and the zombie's was rusty from lack of use. Perhaps left to their own devices, one or the other of them would experience recall. Probably in the middle of the night, at which point an excited spirit would press through the door of his appropriated bedroom and declare the Professor's name and how he knew him in life.
If Ambrose had indeed known him, and wasn't merely confusing him with another passer-through of the Manor. Anything was possible.
But forestalling a midnight declaration, when Alrec's sleeping habits were already shredded by nightmare beings and cursed visions, would be to everyone's advantage.
Sleep meant he'd be able to function in order to bring paying guests to the Manor, after all.
"Professor Benett, this is Ambrose. Ambrose, the Professor here seems to have just woken up from a very deep sleep. In the...basement. It's highly irregular, I know. As good a reason as any to be rummaging through the kitchen though, yes?"
The way Ambrose continued to stare made him wonder if he'd even heard a word of the introduction at all. It wouldn't have been unusual. Alrec talked to himself constantly, spirits here in Lavenza occasionally, and he was used to a lack of responses when he needed them the most. But the way Ambrose was wilting before Alrec's eyes made him even more concerned. This wasn't a reaction of having been rejected or not understanding what he'd done wrong. This was...
Alrec lowered the bag of ice to the table. Considering the two beings again, then turning back to Ambrose, he had to concede: He didn't know what this was. Had the ghost ever encountered someone...intact, at least mostly...from the earliest days of the Manor before? Had everyone else been a guest or a ghost? Certainly his usual forgetfulness this time was fraught with distress.
Did he know--had he known--the professor?
"Ambrose?" He brought his other hand up to press against the specter's barely tangible shoulder. "It's quite all right, friend." Friend. Such a simple word, but such an important one. He continued, gesturing to the bag of ice with a tip of his head, "You mentioned a body had been hurt? I could go see while you...get your bearings? Unless--" He felt the burgeoning of a headache and cut himself off, then curled his fingers inward and dropped his empty hand to his side. Unless what? He wasn't sure what he'd been about to offer. Support? Comfort? Nearness? He was bound to help spirits in need but the trouble was, he wasn't always sure if, like just now, the need was someone else's.
---
Dreams come in a size too big so we can grow into them.