Teller was unusually still as they watched Ruka work, thoughtful. Such certainty in such portentous words! A Seer, to speak of fate in such a way? Or merely a being who'd lived long enough to know? They were fairly certain the bartender was speaking from actual experience and not a sense of the dramatic-- like recognized like, after all. This was a puzzle. It was difficult to ask definite questions without being asked in return, and while "are you human?" might have gotten right to the point, the possibility of having guessed wrong was too dreadful to consider.

The gentle sound of the glass of wine hitting the bar seemed to wake Teller from their reverie. The young bard took the glass, tilted it this way and that to admire the color in the faintly golden light of the cathedral.

Sangria.

Translated literally, it meant

bleeding

. It looked like a Spanish sunset.
They took a delicate sip and made a pleased little smile. Evocative

and

delicious. They held the wine glass palm up, wrist bent and fingers curled just so; it was a pretty little pose. They'd stolen it from a woman they'd seen in a bar once and instantly envied. Her posture had been immaculate, and her dress had been even better.

"Purgatory? Now there's a awful thought. I'd like to think things around here are a little more interesting than that," they teased, gesturing with their free hand at the expanse of the cathedral, at the area where the shirtless young man had been. But something about Ruka's words had struck a chord, it was clear: it wasn't that Teller hadn't been paying attention before, but there was a new glimmer in their green eyes, a shift in their shoulders. They looked like a cat that had spotted the flutter of a wing.

"As for stories..." Teller took another drink of sangria then licked their bottom lip, the slightest flash of pink tongue. They met Ruka's eyes and flashed him a grin that contained all of their considerable charm. "Stories happen to be what I do best."

She couldn't say she really wanted a cigarette, but it sometimes felt strange to have nothing to do with her hands. He glass of wine was empty and she wasn't entirely certain she wanted anymore alcohol. So, instead, as Teller spoke, she returned to the small fridge down below once more and grabbed a bottle of cherry cola.
"Why should purgatory be awful?" she mused as she twisted the lid off her drink and went back to leaning into the bar with her hip. She took a long swallow as she placed the cap on the bar counter. "I rather envision it as a place to rest your feet for a while until you get back on the road once more. A place to consider your options before making a choice, if there's one to be had. Even if that choice is never leaving."
In a way, perhaps that's how she saw this place—any place she settled on for a while and kept up shop. Her own version of purgatory for others, and she its keeper. Some might argue it a haven or a sanctuary; she wouldn't dispute that. But... to Ruka... Purgatory was more apt because people always moved on when it was time to. But there wasn't anything deeply saddening about that.
"I imagine you have a collection, Sir Bard," she replied with another smile.
---
Sometimes I feel like a girl~... sometimes I don't~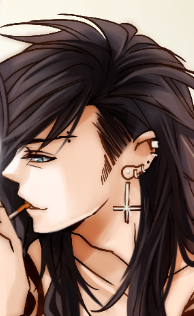 Saint vaguely caught sight of Ruka talking to someone at the bar as he went about his way. He wanted to say hello to Like, but he seemed pretty busy talkin' to another fellow and Saint just didn't have the mental energy to butt in right away.
So instead he let his bare feet carry him to the bar and slid behind the counter some feet away from Ruka and her companion. He wasn't hungry just then, but a drink might be alright. He opened one of the smaller fridges, the one closer to him that the one closer to Ruka, and pulled out a bottle of Sprite. Cap popped, he took a few swallows before hopping up on the bar itself. His legs hung off the side, his back to the rounded bar wall behind him.
He imagined he wouldn't see Seri for a few days. Ruka probably wouldn't be upset; she rarely got upset about anything, really. But he wasn't going to bother her right away with the info, not when he was still waking up. He still half wondered if he'd done something wrong. Normally, that kinda thing wouldn't bother him too much because he wouldn't be seein' whatever bed partner he had for a while, if ever again. But Noona worked there... so... it was different.
He refrained from sighing and took another swig.
---
Sometimes I feel like a girl~... sometimes I don't~
<A HREF="http://i1248.photobucket.com/albums/hh490/Kim_Irvine/Twisted%20Temptation/Luciefel/armand_x_luciefel_by_yaoi_world-d6x6evw.jpg]<img style="border: 0pt none; float:left; padding-right:10px; padding-bottom:10px" src="http://i1248.photobucket.com/albums/hh490/Kim_Irvine/sidebar3.png" width="25%" height="25% align="left]</A><span>    </span> <font color="cd43f8] Luciefel paused suddenly moving his hand to his lover's chest to pause him in his actions, platinum strands still falling over the cushions. Much to his annoyance a very demanding presence was making itself known through something like telepathy and ignoring it was doing naught but giving him the beginning of a migraine. So he acquiesced.


<span>    </span> Despite the furrow that appeared at the action Armand did stop at his lover's silent request, rocking back on his heels slightly as he focused on Luciefel's suddenly distracted gaze.


<span>    </span> There was a sigh from Luciefel, "It seems that we must return."


<span>    </span> A bit of amusement returned to the amethyst eyes at the expression of displeasure on his lover's face at the news though the feeling was most certainly mutual, he didn't much want to go back either but unfortunately in his line of...work. Sometimes you didn't get a choice.

   <span>    </span> "You know I'm no happier than you are at the interruption," he soothed as he gazed into the abyssal depths of his lovers eyes. After Armand stood he moved into his lovers arms and with only a few more minutes of whispered conversation before the two vanished within the shadows without a trace leaving the music room once more empty.

   
</font color>
<img style="max-width:35%;float:left;margin:0 18px;" src="http://i1248.photobucket.com/albums/hh490/Kim_Irvine/banner3_1.png" style="avatar]<span>    </span><font color="#e6c519] Likèreal chuckled quietly at Ruka's comment, he supposed he was a bit of a flatterer. Relaxing further as the dark sensation faded completely and his attention focused fully on those around him - Akihiro in particular. He knew that the blonde could entertain himself amidst the bottles of alcohol though he also hoped that Akihiro would behave, though that was perhaps hoping for a bit too much, he thought wryly catching a whisper about a vibrating bed.


<span>    </span> His friend was unique...definitely one of a kind. In all his years he'd never found another like him and he doubted he ever would. He knew that, and for that reason he could never think of the blonde with anything but fondness despite what trouble he might bring.


<span>    </span> Human life was short, and friends hard to find.


<span>    </span> Likèreal smiled and tipped his head slightly as an expression of his thanks in response to Ruka's comment that she would pour him a drink before becoming preoccupied with Akihiro. The two men spoke in lowered voices, though he spared a curious glance towards the newest guest who was conversing quite animatedly with Ruka quite before the two made their way towards the bar.


<span>    </span> Still, he paused mid-sentence in what he was saying to Aki, honeyed eyes lingering on Saint as the devilishly handsome man passed him and made his way towards the bar. Not that many would blame him for perusing the firm muscles and expanse of pale skin covered with tattoos. His hair was back today though he thought he heard a faint jingle of a bell as he moved past but it might have been his imagination.


<span>    </span> Or a fragment of a memory.


<span>    </span> He came out of his reverie due to an elbow in his ribs and he frowned half-heartedly at his friend while rubbing the spot. Bracing himself for the oncoming bout of good natured teasing with a huge dash of not so subtle innuendo and some advice that would make many red in the face but merely had the Fallen rolling his eyes. The interaction ended in Akihiro taking his leave with promises to come back when the place was properly open.


<span>    </span> Likèreal walked towards the bar as Akihiro walked towards the door, walking towards the bar he swiped the glass with perfect grace as he walked by not spilling a drop of the rosé. Tipping his head in silent thanks without interrupting Ruka in her newest fun. He instead made his way towards the other side of the bar where a certain vampire appeared to be...brooding? Would that be the right word, he wondered absently as he took in the denim clad legs that dangled over the bar.


<span>    </span> "Hello Handsome," he said softly as he rested his hip against the bar before bringing the glass to his lips for a sip.
[/font]
<A HREF="http://i1248.photobucket.com/albums/hh490/Kim_Irvine/sidebar-1.png]<img style="border: 0pt none; float:left; padding-right:10px; padding-bottom:10px" src="http://i1248.photobucket.com/albums/hh490/Kim_Irvine/sidebar-1.png" width="40%" height="40% align="left]</A><span>    </span> <font color="9ce619] It seemed pointless to Saydri to continue to lie blatantly about the state of things when it was obvious the young woman could sense otherwise, though he was uncertain his boss would see it that way. Still, he did believe that if it came down to it, Ruka would have things in control very quickly so he was not concerned about the state of things. However, the thick molasses like sensation from above did unnerve him slightly.


<span>    </span> Still, he did his best to ignore the sensation.


<span>    </span> He did however freeze at the sound of his stomach, almost comically so. It took a moment for him to realise what the sound was and then a faint stirring of embarrassment. Knowing that Lyta would have heard it very easily from their close proximity, though he was more startled at her reaction than anything else.


<span>    </span> He stilled at her sudden action, almost unnaturally and blinked. Silver eyes focusing on her at her new position fully settled on her chair with her fork shoved in his general direction. Unsure if she was using it as a weapon or did she think that he was so hungry he was going to eat her? He wondered tilting his head slightly to the side curiously, causing the auburn strands to fall over his shoulder.


<span>    </span> He didn't move, fearing she'd go skittering towards the door in response.


<span>    </span> Until a sound broke the silence once more startling him, his gaze drawn to hers once more. Noticing the smile and sparkle in those soft brown eyes he relaxed once more, no longer fearing that she would bolt for the door as the young woman dissolved into what he could only guess was a fit of laughter at his expense. Not that he minded.


<span>    </span> He chuckled quietly, gently grasping her wrist as he leaned forward he wrapped his lips around her fork and took the morsel she offered once more before stepping back, chewing slowly as his gaze shifted upwards recognizing that the heavy sensation from earlier was already lifting before he focused once more on the young woman. He really did need to stop stealing all of her food or they'd both still be hungry in the end. His appetite was making itself known.


<span>    </span> "You scared me, I thought you were about to bolt for the door," he said lightly as he took a few steps away from her and towards the fridge. Testing how she responded to the increased distance.
</font color>