Name:
Nagesh
Gender:
Male
Race/Species/etc.:
Basilisk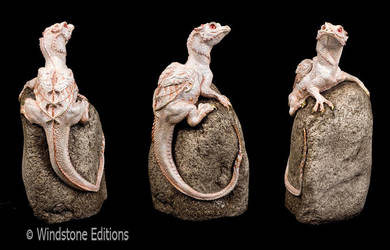 Despite being "King of Snakes" Nagesh's ilk are not precisely serpents. They have little legs with sharp claws that are remarkably efficient for covering ground. They also have vestigial wings that could be used to glide, although Nagesh's are sadly withered and useless.
He is "crowned" with tiny horns and a row of ridges down his spine and tale. He's a little smaller than the average housecat or (more appropriately) an iguana.
He should be a mottled green, but instead he is colourless except for his bright pink eyes.
Obviously, he's an albino, which wouldn't mean much except that it affects his vision. He cannot kill anyone with his stare, which is something of a problem for him.
Nagesh wants to be terrifying. It's his dearest wish, because otherwise he is convinced he is merely use less and ugly and series of other descriptors that have been used for him by creatures that he assumes would know. He has trouble being really menacing though. He's fast, but small. He can bite people, but it's not poisonous or anything (although if anyone asks, it's incredibly deadly. Yes.) He certainly cannot do anything with his eyes, but he has a habit of telling people what he is and trying to make use of the legends as long as he can before they guess that he can't actually hurt anything that way. So for the most part he dwells in as much darkness as he can find and pesters people from the shadows.
When someone does earn his respect and trust he can be fiercely loyal, a surprisingly protective.
He has a tendency to hiss a lot during times of stress. Or for effect, because he's actually kind of a drama queen.
Other:
I've found it fun to give him a human form sometimes, mostly because he hates it, but it's not something he can just do on his own.
This is what a normal basilisk of his sort should look like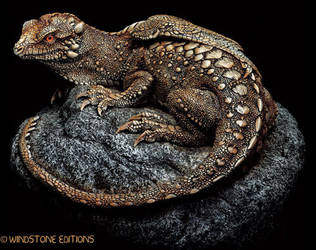 Current "Theme song":
Demons by Imagine Dragons