Note: These two get a joint profile because they share so many traits, and are almost always together in some way regardless of what the other twin is doing unless they are intentionally blocking each other.
Name:
Tahl and Jorah. Sometimes they use the last name Marina. They are comfortable being collectively referred to as "The Mertwins"
Age:
Early twenties. Currently pinned at 22.
Gender:
Tahl is female. Jorah is Male.
Race/Species/etc.:
Merperson (closer to Merrow or Nix/Nixie)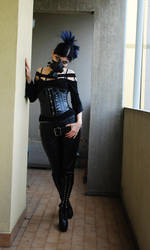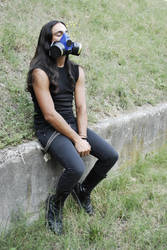 Appearance:
They both have inky black hair, dark eyes, and gill slits just below their jaws. They also have dark circles under their eyes and pale skin, but this is probably more a sign of ill health than genetics. They are both well muscled from swimming so much, but Tahl is a dainty little thing and Jorah is decidedly not.
They both have a fondness for black, and by necessity have a preference for wearing things they can quickly shrug off or get soaked. Tahl has recently discovered that she loves boots and make up, which complicates things for her.
Abilities/Strengths and Weaknesses:
Their main power is obviously the ability to breath underwater, which is great but it comes with the downside of having trouble breathing air. When they were younger they tried a variety of respiratory equipment, but eventually all that was replaced with special masks that filter water out of the air for them. They live in fear of the ones they have breaking.
They still need to stick close to a decent body of water, or they will try out. At the moment they can go about a day before they really start to suffer, but it's uncomfortable long before that.
They share a mental link and can communicate with each other with their mind for some distance and sense each other's location and general state of being. As far as they know they cannot link to anyone outside their "pod" but it's untested. They wanted to keep the fact that they could do this a secret.
They are also Hydrokinetic, which is a fancy way of saying they can control water. Tahl has much more refined control, Jorah can move a much larger amount but can't manipulate it well. When they touch they can combine skills and do some really impressive things. It takes a toll on them though, in the form of intense headaches and nosebleeds. They have always fainted before discovering the highest limits of their abilities, but it's a real concern that if they aren't careful they might give themselves an aneurysm.
Personality:
The twins can come across as a little sullen and over defensive. That's not entirely untrue, but they also crave more contact and can't resist helping people when it seems needed, even if they can be a little socially awkward.
Tahl is very driven, but also a little bit of a brat. Given her stifling upbringing, it's not surprising she craves a little chaos and she's not shy about organizing some of it herself. She's also not shy about sharing her opinions, which can rub people the wrong way. She's also decidedly pushy, esepcially towards Jorah, although he would say he needs the extra shove. She just wants a lot out of life and wants it right away.
Jorah is the epitome of the strong silent type. He just doesn't really feel the need to waste words, even just to Tahl (which is frustrating for her sometimes). He's a lot smarter than he looks, and more gentle. His main concern is making sure Tahl doesn't go completely of the rails, in one way or another.
History:
The twins do not know who their parents are,or if they even have any in the traditional sense. They were born and raised in a lab by a group determined to push the boundaries of what humans are capable of. Tahl and Jorah are the only successes.
Growing up there were not treated well enough to have any actual loyalty to their creators, and they were getting deeply worried about what would happen to them once nothing else could be learned from them. So they escaped, and are now on the run with vague plans to try and get to the coast. Any coast.
Other:
Pseudoscience abounds but I care not. I'd like to play more with their heritage if it comes up.
Current "Theme song"
: Underwater by Mika